Application Timeline
IMPORTANT SCHEDULE

Selection Dates
Activity
Cities
December 28, 2019
Selection Process
Delhi
Chennai
Pune
December 29, 2019
Selection Process
Bengaluru
Hyderabad
Kolkata
Last date to apply: December 23, 2019
Application Process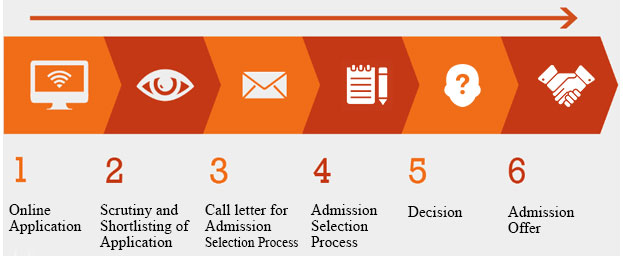 Who can apply?
Graduates from recognized University
Working Professionals looking for a sabbatical or a career enhancement
Admission to the Master of Business Administration (MBA) course at the Alliance Ascent College is strictly based on merit.
Eligibility
Bachelor's degree with a minimum of 50% marks (45% for SC/ST) in aggregate from a recognized university or equivalent
A high score in GMAT/CAT/XAT/MAT/ATMA/CMAT/KMAT
Selection Criteria
Candidates are required to appear for the Admission Selection Process comprised of:
Alliance Management Aptitude Test (AMAT)
Group Discussion (GD)
Personal Interview (PI)
The College also uses other parameters for admission such as scholastic and extracurricular record, and full time, relevant work experience. The selection of the candidate to the course will be based on the overall performance in the Admission Selection Process.
Pattern of Alliance Management Aptitude Test (AMAT)
Sections
Analytical Reasoning
Language Ability
Logical Reasoning
General Awareness
Instructions of AMAT
This test has Four section – 1, 2, 3 and 4.
Time allowed – 60 min.
All question as are of multiple choice. Please use pencil or pen to circle your response.
Attempt to answer all the four sections to improve the possibility of a good score.
Each correct answer carries +1 mark.
Each incorrect answer carries – 0.25 mark.
Application Form
Applicants are encouraged to Apply Online
Download Application Form
The Application Form and Prospectus for the Master of Business Administration can be obtained from the Office of Admissions on payment of ₹1,000/- (Rupees one thousand only) in cash or through demand draft drawn in favour of "Ascent College-Alliance University" payable at Bengaluru
Applicants are requested to submit their filled in Application Form along with attested copies of the below mentioned documents:
Standard X Mark Sheet
Standard XII mark sheet
Bachelor's degree mark sheets (available as on date)
Post-graduate degree mark sheets (if any)
Work experience certificates (if any)
Entrance exam score card
Please send your filled in Application Form to:
Office of Admissions
Alliance Ascent College, Alliance University
19th Cross, 7th Main,
BTM 2nd Stage, N. S. Palya
Bengaluru - 560076, Karnataka, India
Tel.: +91 80 3093 8017 / 8215 / +91 80 4619 9189 / +91 80 2678 6024
Mob.: +91 96060 48542
Fee Structure
---
Click Here For Online Fee Payments (Net Banking / Debit Card / Credit Card)
Click Here For RTGS/NEFT Transfer Details
Download: Fee Structure
Alliance Scholarships for MBA 2020
| Merit Scholarships | Test Cut Off | Academic Consistency | Work Experience |
| --- | --- | --- | --- |
| Tuition Fee Waiver Percentage | High Test Score | 80% through 10, 12, Grad | Min. 3 Years of Full Time Relevant Work Experience |
| 50% | ✔ | ✔ | ✔ |
| 35% | ✔ | ✔ | |
| 30% | | ✔ | ✔ |
| Reserved Category Scholarships | Category | Academic Consistency | Test Score |
| --- | --- | --- | --- |
| Tuition Fee Waiver Percentage | Reservations | 60% through 10, 12, Grad | Min. 70% in an Entrance Test |
| 20% | SC/ST Quota | ✔ | ✔ |
| 20% | Differently Abled | ✔ | |
| 15% | Defence Quota | ✔ | ✔ |
| 15% | National Level Player | ✔ | |
| 5% | Domicile | ✔ | ✔ |
Terms & Conditions
The final list of scholarships granted for the program across categories would be announced in the first week of July 2020, prior to commencement of academic sessions. For the students who would be awarded scholarships, the amount would be adjusted in the next instalment, as per the fee payment schedule.
Scholarship will be continued to subsequent years, subject to the student maintaining academic record of a CGPA above 2.5 in the course
Student should not have indulged in any activity which attracts disciplinary action
Performance only in qualifying entry level examination held in the previous academic year before admission will be considered
An applicant is allowed to apply for scholarship only under one category/discipline
In case of sports quota, the candidate should have participated and won in the National or International level sports/games conducted by the competent authority approved by the government (state/central). Continuation of the scholarship in subsequent years is subject to satisfactory contribution to the sporting activities of the University
Decisions of the Scholarship Committee are final and binding
Definitions:
Domicile: The student should have studied and passed in one or more Government or Government recognized educational institutions located in the State of Karnataka for a minimum period of SEVEN academic years commencing from 1st standard to 2nd PUC / 12th standard as on 1st July of the year in which the candidate is seeking admissions to and must have appeared and passed either SSLC / 10th standard or 2nd PUC / 12th standard examination from Karnataka State. In case of the candidate who had taken more than one year to pass a class or standard, the years of academic study is counted as one year only.
Defence Quota: Serving personnel; ex-servicemen; retired personnel and deceased personnel* or their dependents from Indian Army, Indian Navy, Indian Air Force, Coast Guard, Central Reserve Police Force (CRPF), Border Security force (BSF), Indo-Tibetan Border Police (ITBP), Sashastra Seema Bal (SSB), Central Industrial Security Force (CISF), Railway Protection Force (RPF), National Security Guards (NSG), Special Frontier Force (SFF), Assam Riffles, Border Road Organization, General Reserve Engineer Force (GREF), Defence Research and Development Organization (DRDO), Military Engineers Service (MES) and Defence Security Corps (DSC).
National Level player: The student must have represented his/her state in any competition held between the previous two calendar years at national level, in Individual Event/Team Event/s approved by Ministry of Sports/Sports Federations. The student must have also obtained a certificate from Ministry of Youth Affairs & Sports/National Federation/Board of concerned game/s.
Differently Abled: As per the provisions of the Persons with Disabilities Act, 1995, seven categories of disabilities have been identified viz., blindness, low vision, leprosy cured, hearing impairment, loco motor disability, mental retardation and mental illness. A student with 40% disability of the said categories will be considered for scholarship.
*Applicable for dependents only
High Test Score
Equal to or more than 90 %ile in CAT, XAT, NMAT, AMAT
Equal to or more than 95 %ile in MAT, KMAT, CMAT
Equal to or more than 700 in GMAT
Eligible students of the MBA course may submit the Application Form for Scholarship in the prescribed format with original testimonials/documents/transcripts/marks cards etc.
Students are required to abide by the following terms and conditions upon admission to the courses offered by Alliance University.
Every effort has been made to ensure the accuracy of the information contained in this website and it is issued on the express condition that all matters in it are subject to change from time to time without notice. While the University will make all reasonable endeavors to deliver the courses of study and other educational services as set out in this website, circumstances may change prompting the University to reserve the right to vary the content and delivery of courses and programs; to either discontinue or combine courses and programs or to take any such decision as may be deemed appropriate.
The subject titles, descriptions and contents are subject to change based on the University guidelines.
The fee schedule for the courses offered by the University can be downloaded at www.alliance.edu.in Fees payable for the courses offered by the University are subject to review periodically. Ensuring that fees are paid before the announced due dates is the sole responsibility of the student. Non-payment of the prescribed fees within the due dates will result in the cancellation of the registration to the course or to the subsequent semester/year.
Cost towards travel and accommodation for placements will be to the account of the student. For certain courses, students may incur additional specific charges for such items or activities as sports and games fees, specialized material or field trips. The University reserves the right to charge additional fee to students for such activities.
Alliance University may withdraw or amend its offer of admission, or terminate the registration, if it is found that either a false or a misleading statement has been made or that significant information has either been omitted or withheld in a candidate's application form.
Alliance University does not accept responsibility and expressly excludes all liability that may result from any loss, damage or injury caused to a student or to the student's property.
Students enrolled in the courses offered by the University are required to sign an undertaking at the time of the commencement of the academic year consenting to abide by the rules, regulations and the code of conduct of the University.
Scholarships are available to support full-time study at the University for resident Indian nationals only. Each year the University awards several scholarships in the form of fee remission to outstanding candidates. These scholarships of positive inclusive effort vary in value and have different criteria on which they are awarded. For further details, please visit www.alliance.edu.in
Policy regarding withdrawal from the course:

Refund of fees will be as per norms prescribed by University Grants Commission.
Additional provisions:

Reasons for seeking fee refund
Fee refund amount
Cancellation of admission due to concealment or falsification of facts, submission of false or fake certificates, providing misleading information by the student.
NIL
If a student is provisionally admitted to a course, and becomes ineligible for admission on the declaration of the result of the qualifying examination and the student's admission is cancelled.
Prorata basis
Note: The University policy regarding procedure for refund of fees is enumerated on the website of respective courses.

Such a candidate must submit the duly-signed cancellation application form to the Office of Recruitment, Careers and Admissions (OCRA) before the commencement of the course.
Disputes of any kind are subject to the jurisdiction of the Courts in Bengaluru only.
Office Hours
Monday to Friday: 09:00 am to 05:00 pm
Saturday – 1st & 3rd Holiday. 2nd, 4th & 5th Working
Sunday: Holiday
Download: List of Holidays