Overview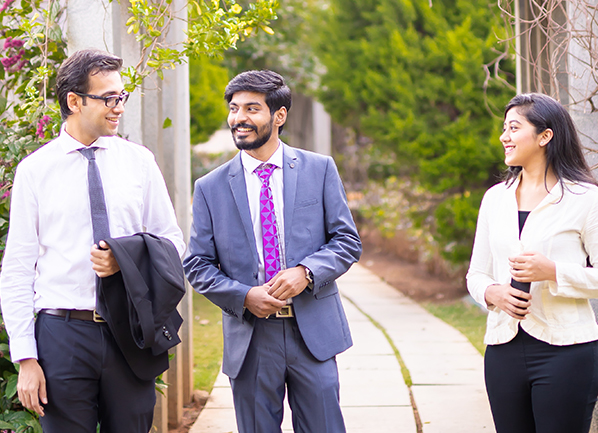 यशप्राप्तिः अस्ति नियतिः or yashapraaptih asti niyatih is an old Sanskrit shloka which means "Being successful is destined". At Alliance University, imparting sustainable knowledge to a generation of learners is by far the most important aspect of our vision. Ones that is done our graduates are destined to grow and succeed in different spheres of life.
A very large part of their success lies in their professional achievements soon after the program they pursue. Alliance University is committed to bring several opportunities from leading enterprises in different functions such as marketing, finance, human resources, technology, accounting, engineering, legal services, operations, consulting, etc.
With a large corporate network, Alliance University ensures that the it brings in a variety of opportunities for varied associations with enterprises to students on campus and even alumni. Year-on-year, there has been substantial improvement in the number of companies that visit the campus for their hiring needs.
The past decade has seen massive changes in global economies; functioning of enterprises; hiring trends; start-up ecosystem; technology-enablement in businesses; and also campus placements. Alliance University has kept up to these changing landscapes in ensuring that its graduates match up the industry requirements.
Placements is pivotal to a student's lifecycle on campus, annually more than 600 enterprises hire students from various programs of Alliance University. With close to 6000 opportunities in varied functions, Alliance University provides a very wide gamut of career choices for students.
Enterprises in technology, consulting, banking, financial services, automotive, telecom, media, advertising, FMCG, consumer durables, infrastructure, hospitality, education, retail, pharma, e-commerce, and many more top the charts in terms of the kind of industry cohorts that visit the campus for placements.
Placement Statistics*

---
Career Advancement and Networking (CAN)
The Career Advancement and Networking (CAN) office of Alliance University works year-round in building relationships and networking with industry professionals from across multiple sectors.
CAN is dedicated to advising students on career options and providing them with the latest information on industry internship and final placement opportunities. Apart from the facilitation services, CAN also arranges for trainings, industry interaction sessions, company visits, etc. The Career Advancement and Networking office of Alliance University provides 100% assistance for industry internships and final placements.
The Career Advancement and Networking office at Alliance University is an interface between industry practitioners and the student-body of Alliance University, facilitating both entities to make strategic hiring and career decisions. The office of the CAN has contacts and databases of thousands of companies and personnel working in various positions across industry sectors, with whom the office shares a mutually enriching relationship. Many organizations recruit students from Alliance University and visit the institute year-after-year seeking extremely well prepared, highly motivated, professional and dynamic young individuals to join them in varied roles and responsibilities in the context of a challenging environment.
The Career Advancement and Networking office constantly liaises with business and industry personnel to update prospective employers on Alliance University students' competencies, availability, background and interests to secure a commitment for campus placements. Alliance University assists graduating students in securing positions in leading national and international enterprises.
Corporate Engagements
Alliance University strives to enhance industry connect through various engagements. One of them is industry partnerships for student and faculty development programs. the university enjoys strong engagement with industry partners. The partnership that gets forged between the university and the corporate is not just limited to campus placements and internships; but also facilitates the following activities for the university graduates.
Guest Lectures
In-plant training
Certificate programs
Seminars
Corporate Events
Live projects
Workshops
Industry Exposure Visits
Conferences and Conclaves
Center for Industry Interaction
One of the major priorities in academia today is the need to constantly adapt to the changing requirements of industry.
Center for Industry Interaction provides an interface between the academic and the corporate world through interactive sessions organized at Alliance University so that students are constantly keeping trach of changing business landscapes. Leading practitioners from diverse industry backgrounds share their insights and management lessons at interactive sessions with students.
As a facilitator between academics and the corporates, the Center for Industry Interaction creates distinct spill-over benefits for all academic units of Alliance University in areas such as, curriculum review, alignment with 'recruiter expectations,' and as reinforcement for wider internship and campus placements opportunities for students.
Renowned business leaders and senior industry experts visit Alliance University to share with students their knowledge, experiences and perspective on areas that cut across different functions of business, law and engineering. (Click here to view)
Collaborating Partners
Our partnership with ICT Academy plays an instrumental role in creating the next genera on talent pool by providing state-of-the-art, industry-relevant curriculum and international certifications.






Curriculum Review Experts
Alliance University works closely with the industry to ensure that the curriculum stays contemporary. Senior industry leaders from some of the companies that are represented below comprise the Board of Studies of different academic units of the university ensuring that they meet at certain frequency to suggest revisions and update the academic curriculum so that students become industry-ready.